EOT Crane Manufacturer & Exporter in India
We are engaged in manufacturer and export of Overhead EOT Crane includes a wide range of Material Handling equipment with capacities ranging from 0.5 tons to 100 tons. We are considered as one of the prime Manufacturer and exporters of EOT Crane with latest features and recent control system. Our EOT Cranes are successfully provide safe material handling duty with safe and satisfied manner in India as well as in foreign countries. Modheshwari Engineering & Fabricatiors is actually a prominent EOT Crane Supplier, Manufacturer, and Exporter in Ahmedabad, Gujarat-India. With deep knowledge of industrial trends for material handling equipments, we have designed and developed different ranges of EOT Crane Manufacturer with global standards. Our series cranes encompass intact material handling need of varied industrial and domestic segments. It efficiently fulfills every kinds of lifting and moving need of industry and offers safe and sound moving of light to heavy objects. Our electrical overhead travelling crane outfitted with runways.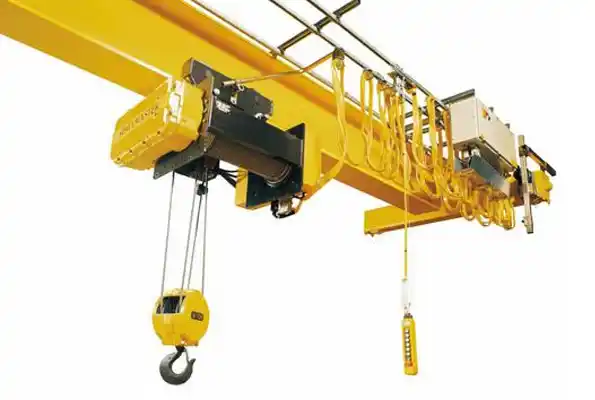 It is most common type of overhead crane and it is found in most factories according to it's name, these are electrically operated by a control pendant, ratio remote pendant or from an operator cabin attached with crane itself
Modheshwari Engineering & Fabricators is a Supreme EOT Crane Manufacturer in India. As per your requirement EOT Crane, Single Girder Overhead Crane, Double Girder Overhead Crane, Goliath Crane India, and Gantry Crane we're the perfect name to be. Engineers at We design each crane to provide best performance, efficiency, and durability. These cranes can be completely specialized for lifting height, speeds, and class of duty depending on the application.
Complete Construction Is Done With Confirming Global Norms.
Cranes structural parts are designed with confirming IS-807
Structural steel parts constructed as per IS-226
Steel forged hooks (heavy duty) as per IS-3815
Efficient drives
Twin drive arrangements is given for L.T. motions
Central drive arrangement on demand
Hoists are designed with modular construction with confirming IS-3938
Short head room
Positive splash lubrication with antifriction ball bearing in oil bath
Wire rope of special plough steel, tested as per 2266
Crane system of medium duty is designed as per class-l & ll
Crane system of heavy duty is designed as per class lll and lV
Entire system is fabricated, erect and tested confirming IS-3177.
Motors as per IS 325
Capacity – up to 40 ton
Span up to 30 meter
Cross travel speed – up to 15 meter per minute
Long travel speed – up to 15 meter per minute
Short head room
Simple design that supports ease of installation, operation, repair, replacement and maintenance
Crane duty motors
AC/DC brakes